The story began in 1899
THE LONG HISTORY OF THE FRONZA ALLE CORONELLE MOUNTAIN REFUGE
The Hut was constructed in the years 1898/99 and in year 1900 was inaugurated from the Section of Verona. Hans Villgrattner was the new manager until 1927. In year 1912 the dormitory was added and in 1920, after First World War, the Italian State dispossessed the hut and conferred it to the C.A.I Verona. The main part of the hut was destroyed by a fire and remained the dormitory. From 1927 to 1945 the hut was run by the Alpine guide, Jori Francesco. Soon after the Second World War, the hut was run by Checco Vian together with his family.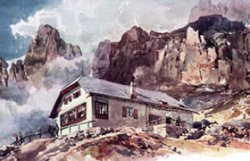 In 1966 a fire destroyed the old part of the hut, which was reconstructed in 1969.
The management of the hut then went to the daughter Maria and her husband Francesco Trottner. In 1982 Maria's children, Pierpaolo and Vittorio, along with their families took over the management of the hut and in 1995 the Vian-Trottner family celebrated the fiftieth anniversary of management of the hut.
In year 2000 the Hut celebrated its first hundred years. A book of the Hut's history has been published for this very important occasion by the C.A.I Section of Verona. Here are some hints.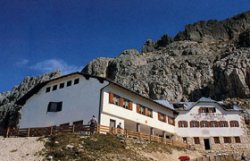 From summer 2014 Pier Paolo Trottner and his family continue to manage the refuge, giving their guests a warm welcome with their experience.