Welcome
Fronza alle Coronelle Mountain Refuge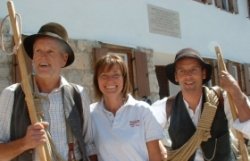 The Trottner family welcomes you to our high-altitude mountain refuge set in the Dolomites, the most beautiful mountains in the world. They are recognised by UNESCO as a World Heritage site and are a true paradise for mountain lovers. The Fronza Coronelle refuge, at an altitude of 2337 m, is located at the foot of the Rosengarten mountain range in a breathtaking panoramic position: you can see from the Latemar to the Corno Bianco and Corno Nero mountain ranges, from the Brenta-Cevedale to the Ortles, and from the top of Italy to the Swiss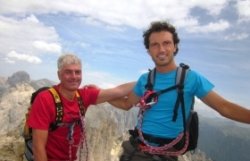 and Austrian Alps. The Hotel Manager Pier Paolo and his family want you make sure you have a great holiday and invite you to share the wonderful views, from dawn until dusk: a sight that you will remember forever! Here you can sleep at high altitude and leave day to day life behind you, relax while sitting down to a carefully-prepared meal and plan your next excursion up the Rosengarten.
Our motto is : PUT ON YOUR BACKPACK, OPEN YOUR EYES AND YOUR MIND, FORGET YOUR WORRIES.
The refuge consists of a restaurant, bar, panoramic terrace, solarium and 60 beds.